+Info
Company
ALBA CONDE was born as a women's fashion label 30 years ago in Galicia (Spain). It dresses a modern woman who adapts the latest trends to her own style and uses fashion as a way to express her individuality, never forgetting that fashions fade, but style and elegance always prevail.
ALBA CONDE is an established label within the market, with a long history and a spirit of constant renewal. Our premises are quality, creativity and attention to detail ensuring that each item fulfils the needs of every client and matches what they are looking for. Our dedication and passion for design means that our collections adopt their own personality whilst reflecting the latest trends.
Every year, five collections are designed, four of them Prêt-á-Porter and one evening collection. In addition, ALBA CONDE, Confecciones Esquío, has the label AC By Alba Conde, a collection that includes the most modern and coolest trends.
We have over 10 shops of our own and franchises, we are present in over 400 multi brand points of sale in Spain and in over 200 in the rest of the world, in countries such as Russia, the USA, China, Israel, Kuwait, Lebanon, Holland, Portugal, UK, and Ireland.
True to our principles of sustainability, responsible consumption and environmental awareness, ALBA CONDE continues its expansion and growth process carrying out almost all of the production of our collections in Spain.
ALBA CONDE is a safe bet. It has positioned itself and become consolidated as one of the best and most modern proposals in the textile sector. In the current market, focused on internationalisation and specialisation, Confecciones Esquío looks towards foreign markets by being present at fashion fairs such as Pure London, Who's Next and CPM Moscow.
Main Offices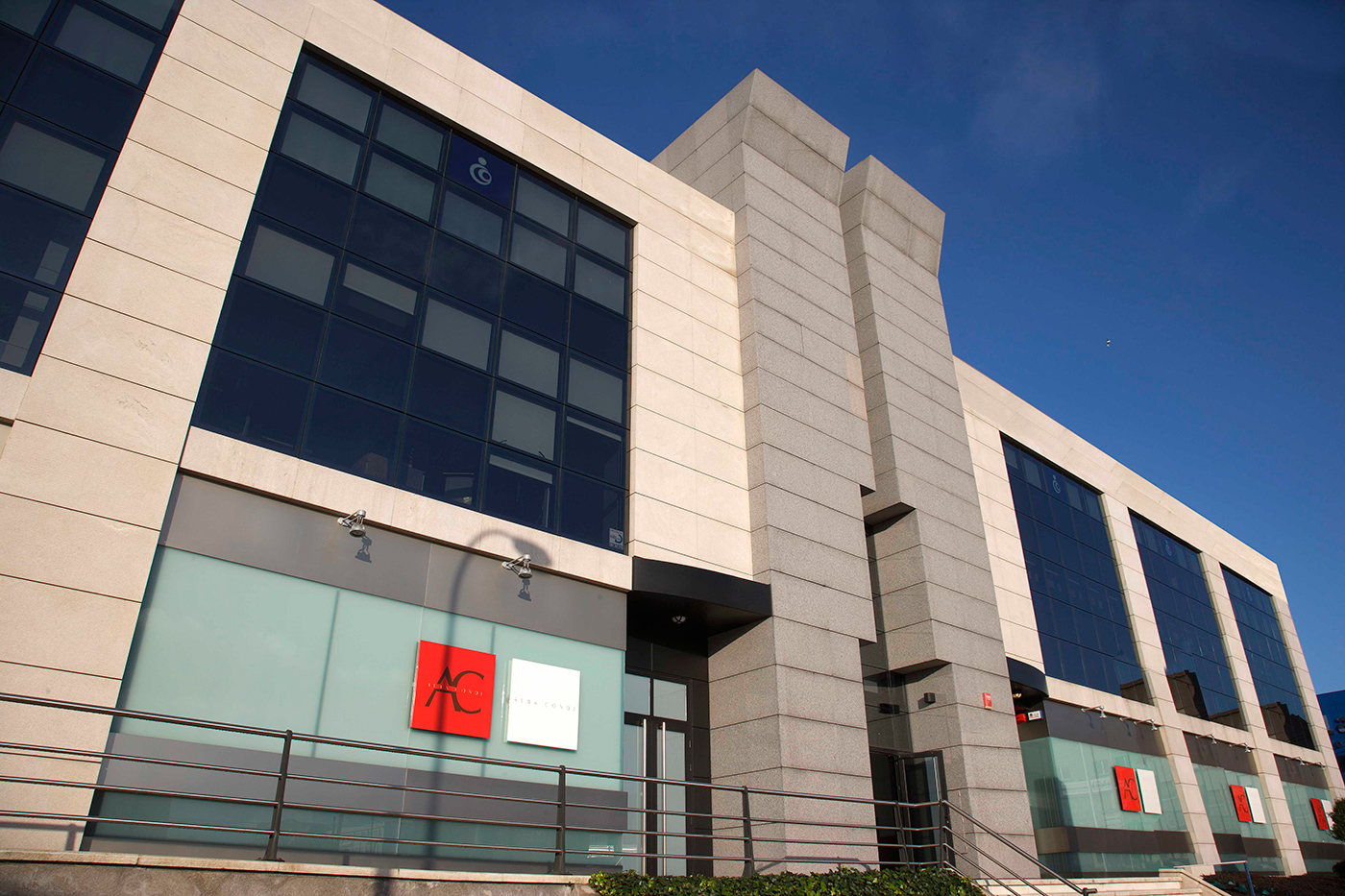 Confecciones Esquio, S.A. Calle Galileo Galilei, 2 bajo , 15008,  A Coruña, España. Telf: +34 (981) 25 75 30
contact us

Contact
Legal Information
1. IDENTIFICATION INFORMATION: In compliance with the provisions of Article 10 of Act 34/2002 of 11 July regarding Information Society Services and E-commerce, the following data is provided: the owner of the domain is  Confecciones Esquio (hereinafter C.E.), with address at Confecciones Esquio S.A., C/ Galileo Galilei, 2,15008, A Coruña, Spain, Fiscal ID number: A15093263, and contact e-mail info@albaconde.com
2. USERS: Anyone (hereinafter "USER") accessing and/or using this Site belonging to C.E. Alba Conde Site developer will accept, from the moment of access and/or use of the Site, the General Conditions of Use laid out here. Said Conditions will be applied independently to the General Terms and Conditions which are obligatory.
3. USE OF WEBSITE: www.albaconde.com allows access to information, services, programs or data (hereinafter "contents") on Internet belonging to C.E. Site developer or its licensor to which the USER may have access. 
The USER accepts responsibility when using the Site. Said responsibility is extended to any registration necessary to access specific services or contents. When registering, the USER will be responsible for giving true and lawful information. As a result of this registration, the USER may be provided with a password for which they will be responsible, accepting to make diligent and confidential use of it. The USER undertakes to make good use of the contents and services (such as chats, forums, or newsgroups) that C.E. Site developer offers, and not use them, including but not limited to, (i) incur in activities that could be considered illicit or illegal, contrary to good faith and public order; (ii)  disseminate content or propaganda of a nature that is racist, xenophobic, pornographic-illegal, supports terrorism, or violates human rights; (iii) damage  hardware or software belonging to C.E. Site developer, its suppliers, or third parties, introduce or spread computer viruses or any other hardware or software that may create the damage previously mentioned; (iv) attempt to access, and/or use the e-mail accounts of other USERS, and modify or manipulate their messages. C.E. Site developer
reserves the right to remove any remarks and contributions which infringe respect for personal dignity, which are discriminatory, xenophobic, racist, pornographic, which constitute a violation of the rights of minors, of public order or public security or, which are considered unfit for publication. In any case, C.E. Site developer will not be responsible for USERS' opinions on forums or chats, or any other participation tool.  
4. DATA PROTECTION: The albaconde.com web site is owned by CONFECCIONES ESQUIO, S.A., with registered offices at C/Galileo Galilei, 2 bajo , 15008,  A Coruña, España., registered in the Business Registry of the province of A Coruña, first registration, in Volume 484 of the Book 263, Sheet 95, page 2974 and bearing Spanish VAT No. A-15093263. 
In accordance with that established by Organic Law 15/1999 of 13th December, on Personal Data Protection, we inform you that your data will be included in a file whose holder is CONFECCIONES ESQUIO, S.A., and such data may be used with the following purposes in each specific case:  
- In order to facilitate electronic purchase and avoid asking the customers the same data every time a new purchase is made, they must register as users in the Portal.  
They will be able to access the registered user section with their user name and their password or with the means which, in each case, the CONFECCIONES ESQUIO, S.A. will make available so that the users will be authenticated.  
- Submitting your personal data through this website in order to ask for information or a quotation means your consent for their inclusion and treatment in a file registered by this company with the Spanish Agency for Data Protection. The data obtained will be used to attend to your enquiry. 
- The data provided may be used, in addition, to send you information about our products and services. If you don't wish to receive this kind of information from our company, you simply have to communicate it to CONFECCIONES ESQUIO, S.A., GALILEO GALILEI 2 BAJO – 15008 A CORUÑA. 
- In order to facilitate access to the contents offered through this website. 
- The study of the use of such services by users and visitors. 
- CONFECCIONES ESQUIO, S.A. will not provide any information to third parties without previous consent by users, except in the cases regulated in articles 11 and 12 of the Organic Law on Personal Data Protection: when such provision will be allowed by the law; when the data have been collected from sources accessible to the public; when the provision made will addressed to the Ombudsman Office, the Chief Prosecutor's Office, or the Judges or Courts or the Court of Accounts in the practice of the functions attributed to them; when the provision will be addressed to autonomic institutions with functions similar to those of the Ombudsman Office or the Court of Accounts; when communication takes place with a previous disassociation process.  
In case that the user were asked for personal data through means different from those mentioned above, CONFECCIONES ESQUIO, S.A. will communicate to them in a specific and unambiguous way the conditions under which personal data are collected and the purposes to which they will be used, the obligation or lack of obligation to provide them, the user's rights, under which conditions the data may be used, the addressees of the information, the entity responsible for the file, and any other complementary information which may be necessary.   
You will be able to exercise your right of accessing, modifying, cancelling, and opposing the treatment of your personal data, in the terms and conditions regulated in the Organic Law on Personal Data, by addressing in writing to CONFECCIONES ESQUIO, S.A., GALILEO GALILEI 2 BAJO – 15008 A CORUÑA.  
The fact of not entering the personal data which are compulsorily required in the contact form may have as a consequence that CONFECCIONES ESQUIO, S.A. will not be able to attend to your enquiry.  
Likewise, by accepting this legal notice, you state that the information and personal data collected are exact and truthful.  
Likewise we inform you that CONFECCIONES ESQUIO, S.A. has implemented the technical and organizational measures necessary to guarantee the security of your personal data and prevent their alteration, loss, and their unauthorized treatment and / or access, taking into account the state of the technology, the nature of the stored data, and the risks caused by human action or by the physical and natural means to which they are exposed. All this is in accordance with article 9 of the Organic Law 15/1999 on Personal Data Protection and with the Royal Decree 1720/2007, of 21st December on the development of the Law mentioned above.   
CONFECCIONES ESQUIO, S.A. obligates itself to treat your personal data with absolute confidentiality and to use them only for the purposes expressed above.  
5. INTELLECTUAL AND INDUSTRIAL PROPERTY:  C.E. Site developer in itself or as assignee, is the owner of all the intellectual and industrial property rights of its Site, as well as all the elements contained in it (including but not limited to, images, sound, audio, video, software or texts; brands of logotypes, colour combinations, structure and design, selection of materials chosen, computer programmes needed for its functioning, access and use, and so on..), owned by C.E. Site developer or of its licensors. In accordance with articles 8 and 32.1, paragraph two, of the Intellectual Property Law, the reproduction, distribution, and public dissemination of,  including the making available of, all or part of the contents of this webpage, with commercial purposes, on any format and by any technical means, without the authorisation of  C.E. Site developer is prohibited. The USER agrees to respect the Intellectual and Industrial Property Rights of C.E. Site developer. The USER can view the elements on the Site, and even copy and store them on their computer hard-disk or any other physical support as long as it is only and exclusively for private or personal use. The USER must refrain from deleting, altering or manipulating any protective device or security system installed in the C.E. Site developer pages.  
6. DISCLAIMER  OF GUARANTEES AND RESPONSIBILITY: C.E. Site developer is not responsible, under any circumstances, for damages of any nature that may be caused, including but not limited to: errors and mistakes in the contents, non-availability of the Site, or the transmission of malicious or harmful viruses in spite of having adopted all the necessary technological means to avoid it. 
7. MODIFICATIONS: C.E. Site developer reserves the right to modify without prior notice any information it feels is necessary on the Site, changing, eliminating or adding any contents or services offered on it as well as the way in which these are presented or located on its Site. 
8. LINKS:  If there should be links or hyperlinks to other Internet sites in the name of the domain, C.E. Site developer will not have any type of control over said Sites and contents. Under no circumstances will C.E. Site developer accept responsibility for the contents of a link belonging to a third party website, nor will it guarantee the technical availability, quality, reliability, accuracy, extent, veracity, validity and constitutionality of any material or information contained in any of the said hyperlinks or other Internet sites. Likewise the inclusion of these external connections does not imply any kind of association, fusion, or participation with the connected entities. 
9. RIGHT OF EXCLUSION:  C.E. Site developer has the right to deny or withdraw access to the Site and/or the services offered without warning, at its own or third party request, to those USERS who do not comply with the General Conditions of Use. 
10. GENERAL:  C.E. Site developer will pursue the non-compliance of the present conditions as well as any improper use of its Site by exercising all civil and criminal proceedings that may be applicable under the Law.
11. MODIFICATION OF THE PRESENT CONDITIONS AND DURATION: C.E. Site developer will be able to modify the conditions set out here at any given moment, duly published as they appear here. Said conditions will be in effect during the time they are displayed and will be valid until they are modified by other duly published conditions.
12.   APPLICABLE LEGISLATION AND JURISDICTION:  The relation between C.E. Site developer and the USER are subject to the applicable Spanish law, and the competent authorities to resolve any conflict that arises are those of the Courts of A Coruña. 
Cookies Policy
A cookie is a file which is downloaded on your computer when you access certain websites. Cookies allow websites, among other things, to store and retrieve information about a user's navigation habits or about their equipment, and depending on the information contained and the way the equipment is used, they can be used to recognize the user. 
Cookies used on this website. 
- Technical cookies: They are those which allow the user navigation through a website, platform, or application, and the use of the different options or services which they may contain, like, for instance, controlling the traffic and communication of data, identifying the session, accessing parts of restricted access, recalling the items which make up an order, carrying out the purchase process of an order, applying for registration or participation in an event, using security elements during navigation, storing contents for the dissemination of videos or sound, or sharing contents through social networks.  
- Personalization Cookies: They are those which allow the user to access the service with some predefined features of general character following a series of criteria in the user's terminal, like for instance the language, the type of web browser through which they access the service, the regional configuration from which they access the service, etc.   
- Analysis Cookies:  They are those which allow the entity responsible for them the follow-up and the analysis of users' behavior in the websites to which they are linked. The information collected by means of this type of cookies is used in measuring the activity in the website, application or platform, and to elaborate navigation profiles of the users of such websites, applications and platforms, in order to introduce improvements following the data of the use made by the service users.  
- Advertising Cookies: They are those which allow the management, in the most efficient way, of the advertising space which, accordingly, the editor may have included in a website, application, or platform from which the requested service is provided based on criteria like the edited content or the frequency with which the advertisements are shown.  
- Behavioral Advertising Cookies: They are those which allow the management, in the most efficient way, of the advertising space which, accordingly, the editor may have included in a website, application, or platform from which the requested service is provided. These cookies store information about the users' behavior obtained through the continuous observation of their navigation habits, which allows developing a specific profile to show advertising accordingly.    
Deactivating or eliminating cookies:  
If you prefer to disable the cookies, you can block them or remove them from your web browser: